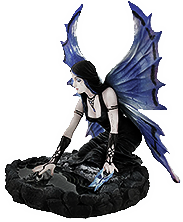 Welcome to the goth fairy garden. Please, come stay awhile. This is my corner of the web to share a bit about the goth subculture and my own personal love for the old internet. I hope you enjoy exploring my virtual space, learn a little about goths, and find some good music in the process.
This website is best viewed on a desktop. I have not created a mobile version.
Recommended browsers: Firefox, Chrome
Updates Log
July 12th 2022 - The About Me, Toybox, Stamps and Blinkies pages have been created. Another fan site has been added to the external links section.
July 11th 2022 - The Site page has been created along with the External Sites and Sources List pages. 2 new buttons were made. The bat bullet pixel was created. The guestbook has been created.
July 10th 2022 - The Home page is currently a work in progress. Other pages are on the drawing board right now. Links to the PNGs used to create the site graphics will be under the site section once it is created. The scroll and title have been hand drawn by me. :)
Three music tracks from Bandcamp have been added to the home page! Misery by the Eden House, Ave Maris Stella by This Ascension, and Distance by Double Echo. My plan is to update these tracks maybe 1-2 times each month.
July 7th 2022 - Index page and graphics were created. The text is hand lettered by me and the scroll is as well! :)
July 5th 2022 - The website has been created.